GET YOUR RACKET STRUNG BY ONE OF THE BEST STRINGERS IN THE WORLD!
TONY GRIFFEN is very privileged to be invited to be a member of the International Yonex Stringing Team.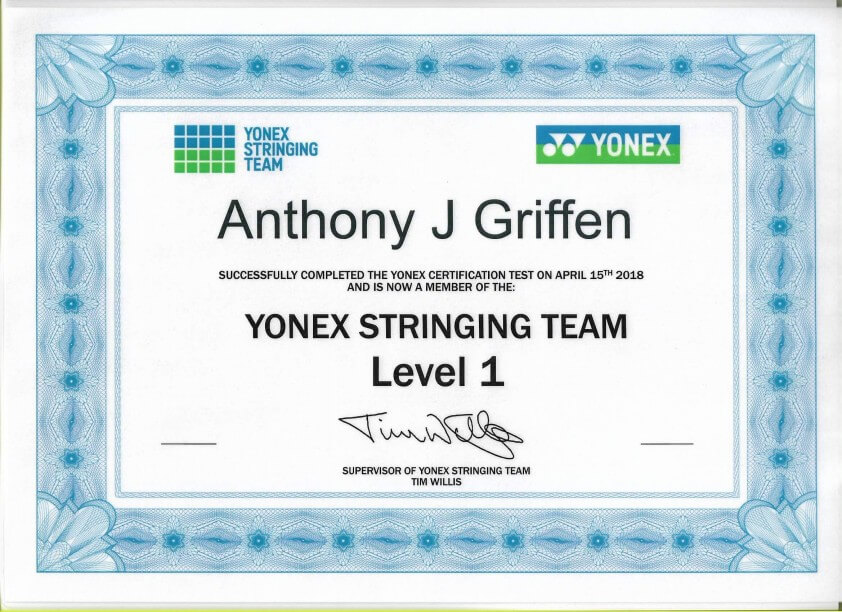 He has been honored to string some of the very best players in the world and badminton legends such as:
2012 Australia Open
LEE CHONG WEI
2014 Australia Open
LEE YONG DAE
Fu Hai Feng
Lin Dan
Ratchanok Intanon
Viktor Axelsen

2018 NZ OPEN
LIN DAN
ANTHONY GINTING
RATCHANOK INTANON
2019 NZ OPEN
LIN DAN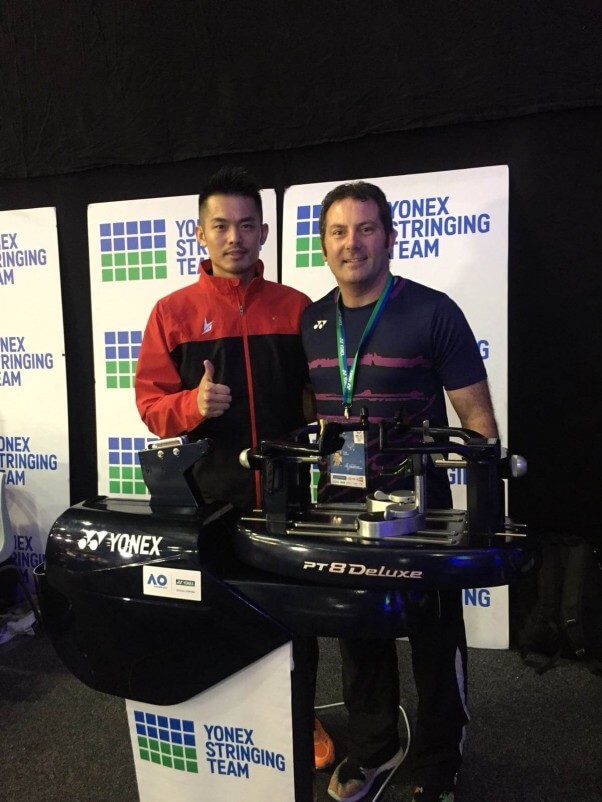 We have the fastest turnovers, if required it can normally be ready by the next day (2 max).
We also offer an urgent on the spot / same day service for an extra $3 (depending on other rackets in the queue - so please call prior to coming to avoid disappointments)

Our racket restringing prices are as follows:
BG65 (white) $27 INCLUDING STRING & LABOUR

BELOW are all $30 INCLUDING STRING & LABOUR
BG65 (black / orange / yellow / royal blue / turquoise / violet)
BG66 (white / yellow / cyan)
BG66 Ultimax (red / yellow / white / black / lime / orange / navy / patel green / blue / pink)
BG65 Ti (white /pink / red/ black / yellow)
BG68Ti
BG80 (white / yellow / blue / pink)
BG80 POWER (white / orange)
BG85
Nanogy 95 (gold / yellow / red )
Nanogy 98 (yellow / gold / silver / blue)
Nanogy 99
BG66 FORCE (white / cyan)
AEROSONIC
AEROBITE - (white & red / white & blue / white & green)
AEROBITE BOOST (yellow & grey / red & grey)
Exbolt 63 (white / yellow / black) *NEW*
SELF SUPPLIED STRINGS (labour only) $18
***Due to on-going increases in costs, we regrettably have to increase our restringing service charges as we are no longer able to absorb these costs.
Our charges have remained the same for the last 11 years in business – this is our first ever increase.
We look forward to stringing your rackets to NZ's highest standard by a YONEX International Stringing Team Member.

由於成本持續增加, 很遺憾我們不得不增加穿線服務費用, 我們無法再承擔這些成本了。
在過去的 11 年中,我們的收費一直保持不變 - 這是我們有史以來的第一次增長。
我們期待將您的球拍由 YONEX 國際穿線成員穿成新西蘭最高標準. ***

Your racket will be strung on THE ONLY YONEX PROTECH 8 electronic stringing machine in NZ to the highest standard with experiences since 1993.
We specialise in stringing @ high tensions!
If you are unsure, not only is Tony an Yonex Official Stringer but also a high performance coach, we are more than happy to advise you.
Just let us know your what level you play at - WE ARE HERE TO HELP!