Everyday Low Price
STRUNG YONEX - VOLTRIC Z-FORCE 2 3U BADMINTON RACKET
RRP
$330.00
INC
NZ

$289.99

INC
SOLD OUT!

STRUNG YONEX - VOLTRIC Z-FORCE BADMINTON RACKET
| | |
| --- | --- |
| FLEX | Extra Stiff |
| FRAME | HM Graphite / Tungsten / Sound Filter / Nanometric |
| SHAFT | HM Graphite / Nanometric / EX-HMG |
| LENGTH | 10 mm longer |
| WEIGHT / GRIP SIZE | 4U G5 / 3U G5 |
| COLOUR | Black / Black |
| STRINGING ADVICE | 4U: 20 - 27 lbs, 3U: 21-28 lbs |
| MADE IN | Japan |
| ITEM CODE | VTZF2 |

MADE IN JAPAN
Your racket purchase includes a FREE RESTRING @ YOUR DESIRED TENSION! Strung on THE ONLY YONEX PROTECH 8 electronic stringing machine in NZ to the highest standard by an OFFICIAL YONEX STRINGER with experience since 1993. We specialise in stringing @ high tensions! If you are unsure, our stringer is actually a Yonex Official stringer and a high performance coach, we are more than happy to give some advice if you would like. Just let us know what level you play at.


NANOMETRIC
NANOMETRIC* improves the bonding strength between the carbon fibres enabling us to take racquet shaft construction to another level. By reducing the amount of carbon in the shaft to make it 60%* thinner than a conventional racquet whilst retaining stiffness, YONEX has created a revolutionary lightweight racquet with lightning head speed and control.
*NANOMETRIC is the new material which applies the NANOALLOYTMTechnology of Toray Industries, Inc. *approximate measurement when compared to a conventional racquet shaft, tested by YONEX


AERO+BOX FRAME


Combines solid hitting feel and quick swing.

COMPACT FRAME
FASTER SWING

To balance the heavy racquet head, the frame has been made smaller to maintain the fast swing demanded by advanced players.By reducing the drag caused by air resistance, the head-heavy feeling is reduced and racquet handling speed is increased.


ISOMETRIC
Enlarged Sweet Spot ISOMETRICTM technology continues to help the world's greatest players achieve global success. Developed over 30 years ago, the ISOMETRICTM design increases the sweet spot by 7%*. Compared to a conventional round frame, a square-shaped ISOMETRICTM racquet generates a larger sweet spot by optimizing the intersection of the main and cross strings. ISOMETRICTM delivers greater control without sacrificing power. ISOMETRICTM is a Trademark of Yonex CO., LTD. *Tested by Yonex


NEW GROMMET PATTERN
HIGH PERFORMANCE

The single-pass grommet hole construction provides more grommet holes for a more high-performance stringing pattern.


SOLID FEEL CORE
Cuts Vibration
The built-in solid feel core cuts harmful miscellaneous vibration at impact. Solid feel core is carried in all racquets manufactured in Japan.
SOUND FILTER




ELIMINATES VIBRATIONS

Voltric is Strong SoundingAnother innovative YONEX technology, Sound Filter uses new materials at the two and ten o'clock positions to reduce only high pitched and dull soundwaves. This produces a louder and sharper sound on impact to unsettle opponents, and provides a more aggressive tone to your game for a relentlessly attacking style of play. Sound Filter also reduces uncomfortable sensation from the racquet by rapidly eliminating 31% of vibrations.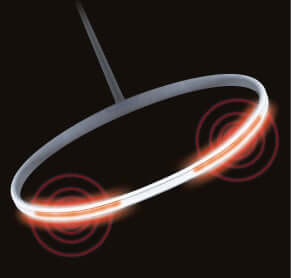 TRI-VOLTAGE SYSTEM





SMASH WITH INSTANT POWER

Traditionally, extra weight at the top of the racquet frame has increased hitting power but reduced the speed of racquet handling. In contrast, a lighter top to the frame increases speed but causes a loss of hitting power. For the first time, the new TRI-VOLTAGE SYSTEM successfully combines the contrasting characteristics of exceptional power and great handling. YONEX has developed a racquet which achieves the combination of heavy smashes and speedy racquet handling. Voltric is Power: The stiff racquet structure at the top of the frame allows the head to bend in a very controlled way and hold shuttles on the string bed for longer. The thin frame sides then allow the frame to flex more and transfer more energy to the shuttle. This combination allows you to smash with instant power. Voltric is Agility: In VOLTRIC, the weight is balanced on the top of the frame and at the joint area which allows good handling while also maintaining power. The thin sides of the frame and at the top of the head reduce air resistance and improve the handling even further. Players can now make a full swing even during short range rallies as VOLTRIC responds instantly to even subtle movements.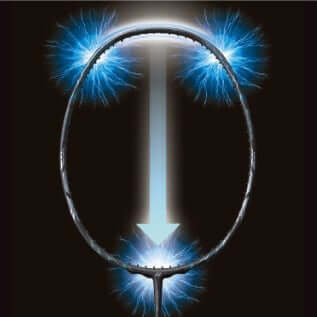 TRI-iBUMPER
MAX POWER

Tungsten infused grommets maximize the contact time between shuttle and string. This combined with the TRI-VOLTAGE SYSTEM ensure that the frame flexes in a controlled way, holding the shuttle on the string bed for longer for maximum transfer of power to the shuttle.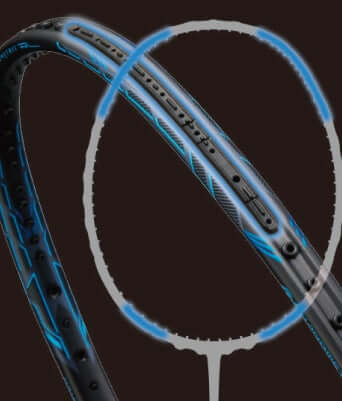 SLIM SHAFTS


EXTRA SLIM SHAFT
Thinnest, Strongest Ever Produced by Yonex

Cutting edge NANOMETRIC carbon technology is used to produce an ultra-thin, ultra-tough, aerodynamic shaft, created for a stronger and more intense shot.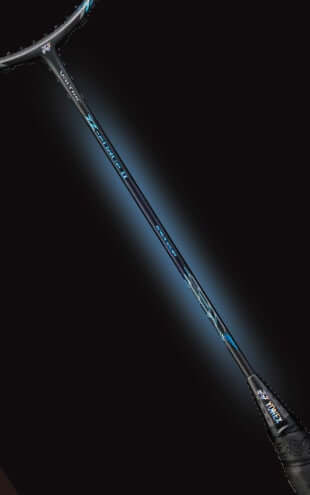 CONTROL SUPPORT CAP
Sharp Maneuverability

The control support cap provides an 88% wider flat surface compared with an ordinary racquet for easier gripping, fast follow-through and the sharpest maneuverability.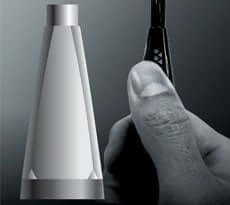 NEW BUILT-IN T-JOINT

The lightweight T-Joint increases stability of the shuttle on the strings, maximizing power and control.