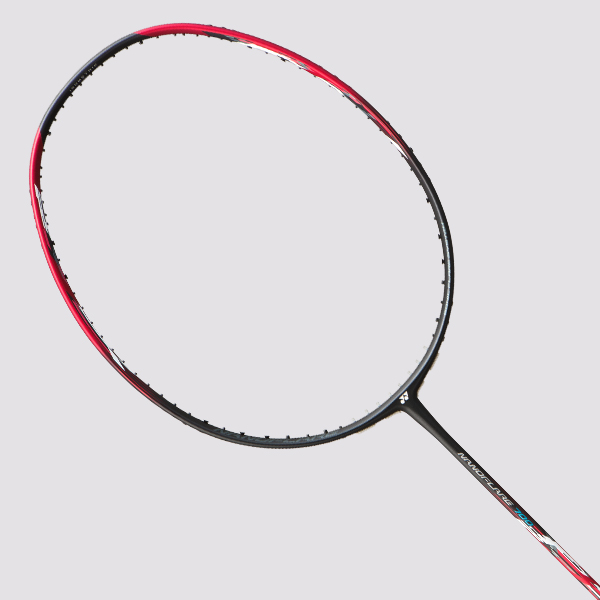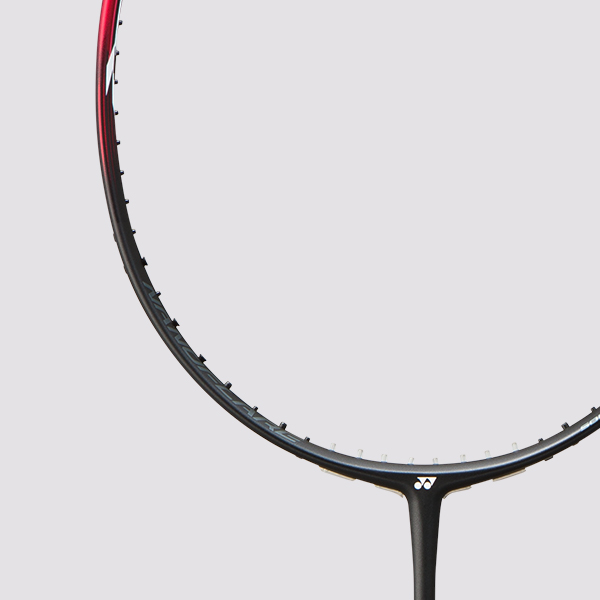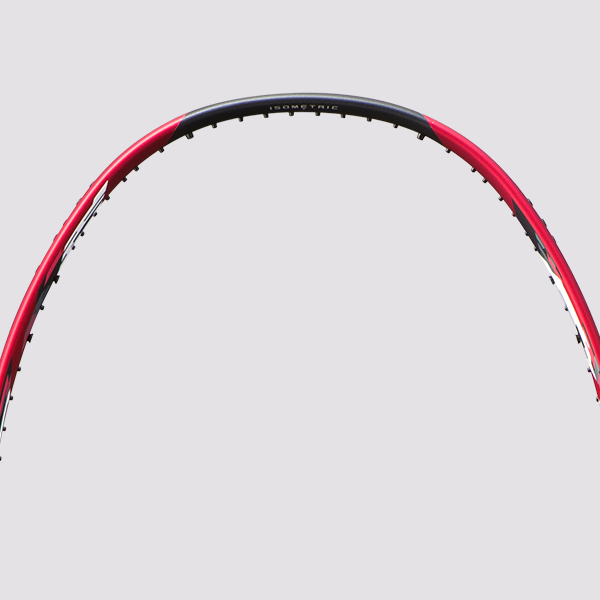 Everyday Low Price
STRUNG YONEX - NANOFLARE 700 BADMINTON RACKET - RED
RRP
$350.00
INC
NZ

$289.99

INC
STRUNG YONEX - NANOFLARE 700 BADMINTON RACKET - RED
| | |
| --- | --- |
| FLEX | Medium |
| FRAME | HM Graphite / M40X / SUPER HMG |
| SHAFT | HM Graphite |
| LENGTH | 10 mm longer |
| WEIGHT / GRIP SIZE | 4U G5 |
| COLOUR | REd |
| STRINGING ADVICE | 4U: 20-28 lbs |
| MADE IN | Japan |
| ITEM CODE | NF700 |
MADE IN JAPAN Your racket purchase includes a FREE RESTRING @ YOUR DESIRED TENSION! Strung on THE ONLY YONEX PROTECH 8 electronic stringing machine in NZ to the highest standard by an OFFICIAL YONEX STRINGER with experience since 1993. We specialise in stringing @ high tensions! If you are unsure, our stringer is actually a Yonex Official stringer and a high performance coach, we are more than happy to give some advice if you would like. Just let us know what level you play at.
The popular NANOFLARE 700 is scheduled for a one-time production, limited edition design exclusive for 2020. Inspired by Japanese traditional artistry, the racquet takes visual and philosophical cues from "kinpaku," which are thin sheets of gold often used to express delicateness, festivity, extravagance, and more. This limited edition NANOFLARE 700 will see a global release date of August 10th. The NANOFLARE 700 is engineered for intermediate to advanced players looking to command the rally with maximum speed and effortless force. The AERO Frame built into the NANOFLARE 700 is developed to reduce air resistance for speed and acceleration. The careful combination with the SONIC FLARE SYSTEM helps increase repulsion while softening the impact on the arm, providing increased shuttle speeds with an effortless swing.
AERO FRAME
Smoother contours throughout the racquet head for less wind resistance and extra racquet speed.
ISOMETRIC
Enlarged Sweet Spot ISOMETRICTM technology continues to help the world's greatest players achieve global success. Developed over 30 years ago, the ISOMETRICTM design increases the sweet spot by 7%*. Compared to a conventional round frame, a square-shaped ISOMETRICTM racquet generates a larger sweet spot by optimizing the intersection of the main and cross strings. ISOMETRICTM delivers greater control without sacrificing power. ISOMETRICTM is a Trademark of Yonex CO., LTD. *Tested by Yonex
NEW GROMMET PATTERN
HIGH PERFORMANCE The single-pass grommet hole construction provides more grommet holes for a more high-performance stringing pattern.
M40X
A next-generation highly strong, yet elastic carbon fiber developed by Toray Industries, Inc.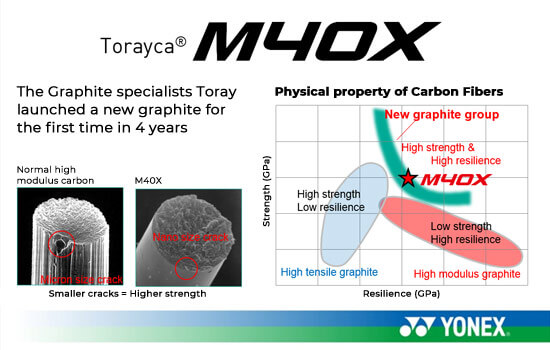 SOLID FEEL CORE
Cuts Vibration
The built-in solid feel core cuts harmful miscellaneous vibration at impact. Solid feel core is carried in all racquets manufactured in Japan.
SONIC FLARE SYSTEM
Max Acceleration The revolutionary new graphite material TORAYCAR M40X and SUPER HMG provide unrivalled power and stability for maximum shuttle acceleration.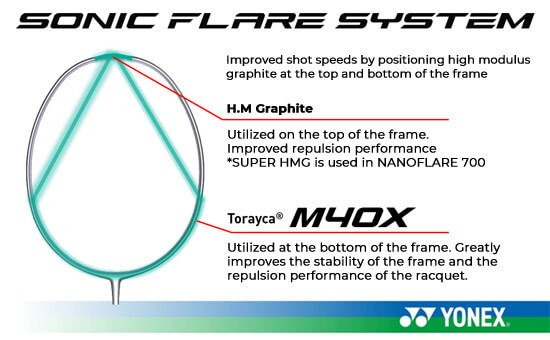 SUPER SLIM SHAFT

Reduced Air Resistance
The slimmest racquet ever produced by YONEX vastly reduces air resistance whilst providing maximum feel.
CONTROL SUPPORT CAP
Sharp Maneuverability The control support cap provides an 88% wider flat surface compared with an ordinary racquet for easier gripping, fast follow-through and the sharpest maneuverability.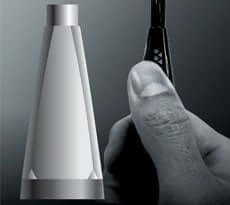 SUPER HMG
Super High Modulus graphite
NEW BUILT-IN T-JOINT
The lightweight T-Joint increases stability of the shuttle on the strings, maximizing power and control.