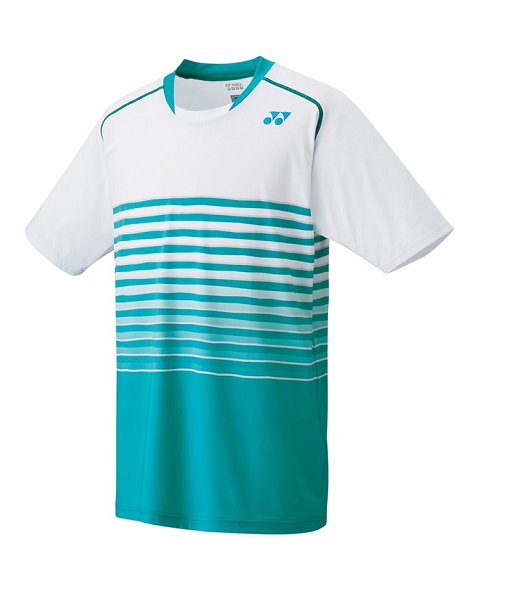 YONEX - MEN'S CREW NECK T-SHIRT - DEEP SEA
RRP
$69.90
INC
NZ

$69.90

INC
YONEX - MEN'S CREW NECK T-SHIRT (12103EX)
BUY 1 GET 1 FREE OFFER:
You can MIX & MATCH ANY ITEM in the "BUY 1 GET 1 FREE" offer.
Free item must be same or lesser value.
ONLY items in "Buy 1 Get 1 FREE" category applies.
A) PAYPAL – please pay FULL AMOUNT at check out and we will refund you the difference within 24 hours! ( sorry but website default will not allow you to pay partial amounts)
B) DIRECT DEBIT – please DEDUCT the free item amount and ensure you use INVOICE number as REFERENCE.
MATERIAL: 89% Polyester
11% Polyurethane

COLOUR: Deep Sea
A COOL WAY TO BEAT THE HEAT
By using impregnated Xylitol, a completely natural technology, VERYCOOL clothing from YONEX absorbs heat and perspiration, providing a significant cooling effect during exercise. No matter what the ambient temperature, VERYCOOL lowers body heat by 3°C for cooler play*.
*Data from Unitika Garments Technology & Research Laboratories Ltd.
OUTSTANDING ULTRAVIOLET INTERCEPTION
Yonex clothing intercepts infrared radiation and approximately 92%* of ultraviolet, minimizing heat build-up in clothing during play.
*Tested by BOKEN QUALITY EVALUATION INSTITUTE.
AGGRESSIVE STRETCH FOR AGGRESSIVE MOVEMENT
Tailored to provide extra stretch, our clothing provides a comfortable fit and smoother movement, no matter how aggressive your game.
SMOOTHER ARM MOVEMENT WHEN IN ACTION
Affording a 165-degree range of motion in the sleeve, our shirts boast less restriction and free movement.
AVOID THE DISCOMFORT OF STATIC ELECTRICITY
Carbon impregnated, conductive fibers, woven into the stitching of the clothing remove the build-up of static electricity.